A Continuum Immersion: Life-Nourishing Breath, Sound, and Movement
With Elaine Colandrea
September 14 - 17, 2023
RETREAT BY INVITED PRESENTER
Life force is difficult to define. Yet, once we step away from outer-focused action we can both sense and nourish it. Over this nourishing long weekend, we will engage in biologically based explorations, developing deep personal resources by tending our inner fluid nature. We will use the Continuum process of breathing, sounding, and fluid movement to provide ourselves heartfelt and soulful attention, galvanizing health and wellbeing; it's the perfect antidote to today's overly programmed and homogenized world.
To highlight our connection with the natural world, we will be primarily in the covered Outdoor Pavilion, therefore space is limited to 16 participants.
STAY SAFE DURING COVID-19: Please read our COVID-19 Precautions & Preparations to understand our additional strategies.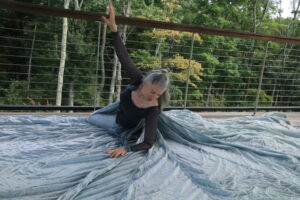 PROGRAM DESCRIPTION
The serene Dharmakaya retreat setting, where basic needs are elegantly met, allows multiple days of immersion into the breath, sound and fluid movement sequences of Continuum. The primary focus is on the life affirming act of supporting personal life force, rather than tending the day-to-day activities of survival, which often lock bodies and identities into tense self-limiting patterns.
Practicing in the covered Outdoor Pavilion restores our connection to nature, giving a necessary infusion of the elemental energies that make up our bodies and our world. The indoor Meditation Hall and fire pit offer additional spaces for nurturing introspective and interoceptive discoveries.
This is a somatic movement workshop accessible to all ages and levels of ability.  Once laid out, the practices are done at one's own pace. This self-guided aspect of Continuum builds inner authority and offers the opportunity for deeper levels of self-regulation—a necessary component of health, wellbeing, creativity and learning.
Continuum is of interest to many fields of inquiry, including but not limited to, health care practitioners, activists of all kinds, educators, artists and all those who choose to thrive in a co-creative process with the earth itself.
Delve deeper through these videos and websites:

EVENT HIGHLIGHTS
Intimate setting with personal access to the teacher
Interactive sessions with question and answer periods
Guided meditations
Delicious all-vegetarian meals with locally sourced ingredients
Option to extend stay on Personal Retreat
Extensive library of dharma books
Paths through our expansive wooded grounds

OPEN TO ALL

Practice is self-paced and all abilities are welcome. Continuum experience is requested. In lieu of Continuum experience, please arrange an interview with the teacher, Elaine Colandrea, who will be happy to meet with you in person or virtually.

SCHEDULE
(subject to change)
Thursday, September 14th

| | |
| --- | --- |
| 3:00 PM | Check in begins |
| 6:00-7:00 PM | Dinner (Dining Hall/Dining Terrace) |
| 7:30-8:30 PM | Welcome and Introduction (Outdoor Pavilion) |
| | Session 1 (Outdoor Pavilion) |
Friday, September 15 & Saturday, September 16th

| | |
| --- | --- |
| 7:00-8:00 AM | Morning Salutations and Meditation, optional (Outdoor Pavilion) |
| 8:00-9:00 AM | Breakfast (Dining Hall/Dining Terrace) |
| 9:30 AM-12:30 PM | Session 2/4 (Outdoor Pavilion) |
| 12:30-1:30 PM | Lunch (Dining Hall/Dining Terrace) |
| 2:30-5:30 PM | Session 3/5 (Outdoor Pavilion) |
| 6:00-7:00 PM | Dinner (Dining Hall/Dining Terrace) |
| 7:30-8:30 PM | Evening Gathering (Outdoor Pavilion) |
| | |
Sunday, September 17th

| | |
| --- | --- |
| 7:00-8:00 AM | Morning Salutations and Meditation, optional (Outdoor Pavilion) |
| 8:00-9:00 AM | Breakfast (Dining Hall/Dining Terrace) |
| 9:30 AM-12:30 PM | Session 6 (Outdoor Pavilion) |
| 12:30-1:00 PM | Lunch (Dining Hall/Dining Terrace) |
| 1:00 PM | Checkout and Departure |
Teacher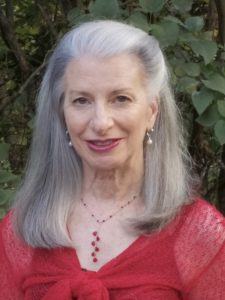 Elaine Colandrea
Elaine Colandrea explores how the somatic arts shape consciousness, inform and inspire the creative process, as well as foster connections with nature to organically create a more humane world. Continuum teacher and Artistic Director of Watermark Arts, as well as a dancer/choreographer, somatic educator and massage therapist, her work has been deeply influenced by her association with Emilie Conrad, founder of Continuum, a practice she has pursued for 30 years. With Rori Smith, Elaine co-authored The Elemental Body: A Movement Guide to Kinship with Ourselves and the Natural World, Epigraph, 2022. Elaine's abiding passion is bringing people together to directly…
Learn more about Elaine Colandrea