Online: ACCOMPLISHMENT Unveil Your Awakened Nature
With Trungram Gyalwa Rinpoche
September 1 - 6, 2023
Discovering the Dharma III
A DHARMAKAYA CENTER STREAMING PROGRAM

In Discovering the Dharma III, H.E. Trungram Gyalwa Rinpoche outlines the entire Tibetan Buddhist path using teachings from Gampopa's Jewel Ornament of Liberation. He discusses the mind of ignorance and insight, the path of practice and the teacher-student connection, all over five days of engaged learning and guided practice.
You will receive the teachings, have the opportunity to ask questions during the question and answer period, follow the guided meditations and yoga, and participate in small-group discussions with other online participants. You will also have full access to the recordings after the retreat. See the schedule below for more details.
Simultaneous translation will be available in Chinese.
SCHOLARSHIPS: Some partial scholarships are available. Please write [email protected] to inquire.
NOTE FOR ONLINE ATTENDEES: Please note that you must attend the Discovering the Dharma teachings in person to qualify for Discovering the Dharma IV.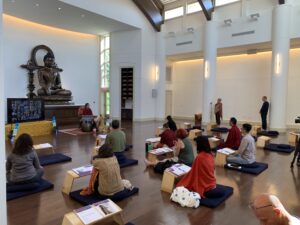 PROGRAM DESCRIPTION
The Mind of Ignorance and Insight: Empower Yourself by Knowing Yourself
Understand how the path to freedom from fear and frustration opens you to the possibility of enlightenment. Empower yourself with practical skills to process and release disturbing emotions.
The Path: Follow an Accelerated, Systematic Process to Achieve Enlightenment
Study the Tibetan Buddhist path to awakening, including Buddha's life story. Discover the step-by-step path to enlightenment according to Gampopa's Thargyan, as described in his seminal text, Ornament of the Precious Liberation.
The Spiritual Teacher: Learn the Importance of Finding the Right Teacher
Understand the need for an authentic teacher on the spiritual path, the qualities of teacher and student, and how to relate to a teacher for your greatest benefit.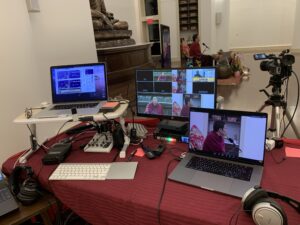 EVENT HIGHLIGHTS
Interactive sessions with teachings and Q & A
Guided meditation
Small group discussion (organized by language and region)
Tsa-Tue yoga practice
You are encouraged to engage in Tsa-Tue Yoga, Solitary Meditation, and Walking Meditation between sessions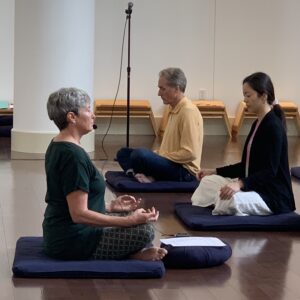 OPEN TO ALL
There are no prerequisites for this program; it is appropriate for meditators at all levels and those simply interested in exploring the teachings. Although it is part of the Discovering the Dharma series, please note that you must attend the Discovering the Dharma teachings in person to qualify for Discovering the Dharma IV.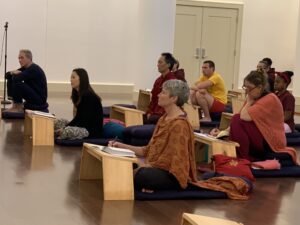 SCHEDULE
(subject to change)
All times in the schedule below are provided in the Eastern Time Zone. For the first session global starting times are:
USA West: 4:35 PM, September 1
USA East: 7:35 PM, September 1
London: 12:35 AM, September 2
Berlin, Paris: 1:35 AM, September 2
New Delhi: 5:05 AM, September 2
Kathmandu: 5:20 AM, September 2
Bangkok: 6:35 AM, September 2
Hong Kong, Singapore, Beijing: 7:35 AM, September 2
Friday, September 1

| | |
| --- | --- |
| Session 1 | |
| 7:30-7:45 PM | Introduction and Welcome to the Retreat |
| 7:45-9:00 PM | Rinpoche Introduction to Meditation |
Saturday, Sept 2; Sunday, Sept 3; Monday, Sept 4; Tuesday, Sept 5
| | |
| --- | --- |
| Sessions 2, 4, 6, 8 | |
| 8:00-10:00 AM | Rinpoche Teaching and Q & A |
| 10:00-11:00 AM | Tsa-Tue Yoga |
| 11:00-11:30 AM | Guided Meditation |
| 11:30 AM – 12:30 PM | Small Group Discussion |
| | |
| Sessions 3, 5, 7, 9 | |
| 7:00-9:00 PM | Rinpoche Teaching and Q & A |
| 9:00-9:45 PM | Tsa-Tue Yoga |
| 9:45-10:15 PM | Guided Meditation |
| 10:15-11:15 PM | Small Group Discussion |
Wednesday, September 6

| | |
| --- | --- |
| Session 10 | |
| 8:00-10:00 AM | Rinpoche Teaching and Q & A |
| 10:00-10:45 AM | Refuge, Gratitude Mandala Offering |
| | |
Teacher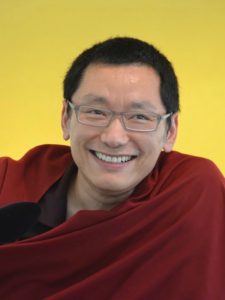 Trungram Gyalwa Rinpoche
H.E. Trungram Gyalwa Rinpoche is the founder and spiritual director of the Dharmakaya Center for Wellbeing. Known as a scholar, teacher and meditation master to thousands of students around the world, Rinpoche is also the first incarnate lama to earn a PhD in the West. He completed his doctoral studies in Indo-Tibetan Buddhism at Harvard University in 2004. He is the head of the Trungram lineage, its monasteries, meditation centers, schools, dharma centers and groups around the world. One of the highest tulkus of the Kagyu lineage, he is a Rime master, having received teachings from the great masters of…
Learn more about Trungram Gyalwa Rinpoche