Sacred Timing: New Year's Eve
With Rev. Therese Bimka, LCSW
December 30, 2023 - January 1, 2024
Shrines for 2024
POETRY • PRAYERS • MOVEMENT • SONG
WITH GUESTS ROSIE MAUD MCLAUGHLIN AND ERIC ARCHER
Welcome 2024 with mindfulness, introspection, fun, and imagination. This weekend will be an invitation to living on purpose and to accessing the miracle of this precious journey we call life. In addition to creating personal prayer books and shrines, we will take rich excursions into meditation, Qigong,  Spoken Word Sound Bath, Kirtan and Movement, with guest teachers Rosie Maud Mclaughlin and Eric Archer joining the festivities.  Each segment will offer a dedicated contemplation. Together we will create an experience that is spacious, warm, engaging, creative, and inspirational.
"The program, the presenter, and the nurturing environment of the center, staff and beautiful grounds created a very peaceful and healing experience."  ~ J.C
EXTEND YOUR STAY: Take advantage of the holidays by coming early or lingering afterwards on personal retreat. Just add days before or after the program at step 2 of Registration.
STAY SAFE DURING COVID-19: Please read our COVID-19 Precautions & Preparations to understand our strategies.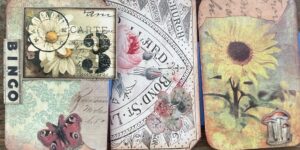 PROGRAM DESCRIPTION
Join the festivities—and the contemplation—as we blend expressive arts, gentle movement, kirtan, mindfulness practices, and a spoken word Sound Bath.
And, of course, on New Year's Eve we will share a toast and a prayer for all good things on behalf of all sentient beings everywhere.
The weekend will offer opportunities to engage with various forms of creativity and expression – as we seek to identify and discover your unique Dreams, Blessings and Prayers for a life lived with inspiration and compassion. 
Make a Shrine to House a Holy Intention
Using inspiration from diverse meditation and contemplative teachers as well as the great poets, we will identify and find poems or prayers to anchor us in heart -centered holy intention.  These poems, blessings and prayers will find a home in both your shadow box Shrine and your heart.
Therese will bring a wide array of poetry options from diverse inspirational teachers, and you can bring your own as well. Whether you discover the power and beauty of a Loving Kindness Metta Meditation or a poem by Rumi, these words of inspiration will become your "Soul Companions" for the weekend and perhaps for many months to come.
Complimenting the creation of your 2024 Shrine will be the creation of a mini pocket blessing/prayer booklet that can be a portable reminder of your holy intention.

Group Meditation: Meditation offers a myriad of benefits for mind, body, and spirit. Practitioners often find it beneficial to meditate together in community, jointly increasing their depth of focus and comfort in their meditation practice. Join the Dharmakaya Center staff as you become more peaceful, feel more centered, experience a greater sense of wellbeing.
Qigong, with Rosie McLaughlin:
This offering will support participants in opening and deepening pathways of receptivity by accessing the chakras and energy centers of the body.
The Ecstatic Spoken Word / Of Sound Body, with Eric Archer:
This session will explore different meditation and body-centered approaches to inducing presence and creativity — focusing this presence into writing and listening to poetry. Through a series of meditation practices and writing periods, we will explore where our words take us, with invitations of live musical accompaniment to share our poetry composed in class. We will then transition into a passive sound meditation, activating and contacting the sonics of the body. In Of Sound Body we will experience the threshold of sound and listening through an immersive sound journey which showcases folk instruments from around the world to deepen our own presence and inquiry.
"Even though we may forget our vows 10,000 times, come, come whoever you are… begin again and again." ~Rumi
In the sacred container we will create together, this creative and spiritually nourishing workshop will invite you into a contemplative and introspective experience, listening deeply while remaining in connection with kindred spirits.
Close the weekend renewed and refreshed as you enter 2024!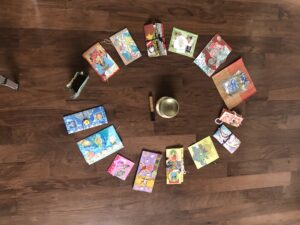 EVENT HIGHLIGHTS
Group size limited to ensure personal access to the teacher
Opportunities to be in community while enjoying silent creative exploration
Group sharing and deepening will be woven into the weekend time together
Seating and walking meditation
Guided visualizations
Spoken Word Sound Bath
Movement and Dance
QiGong
Option to begin each morning with salutations and silent meditation
Delicious all-vegetarian meals with locally sourced ingredients
Extensive library of dharma books
Expansive wooded grounds with beautiful flora and fauna
Option to extend stay on Personal Retreat
OPEN TO ALL
There are no prerequisites for this program; it is appropriate for all. No art-making experience necessary; all materials will be provided.
SCHEDULE
(subject to change)
Saturday, December 30

| | |
| --- | --- |
| 3:00 PM | Check in begins |
| 6:00-7:00 PM | Dinner |
| 7:15-7:30 PM | Welcome and Introduction |
| 7:30-8:30PM | Buddhist Psychology |
| | Creativity as a Portal to the Divine; creating a safe space |
| | Heart Meditation: Polishing the Heart of Awareness |
| | Break |
| 8:30-9:45 PM | Create your Mini-Prayerbook |
| | |
Sunday, December 31

| | |
| --- | --- |
| 7:30-8:00 AM | Morning Salutations and Meditation (optional) |
| 8:00-9:00 AM | Breakfast |
| 9:00 AM-12:30 PM | First Contemplation: Air Element, Awareness |
| | Activating the Witness Self with Metta Practice, QiGong, Journaling and Kirtan |
| | Decorating the Shrine |
| 1:00-2:00 PM | Lunch |
| 2:00-5:30 PM | Second Contemplation: Earth Element, Grounding & Resourcing |
| | The Five Elements of a Prayer, Walking Meditation, and Resourcing as a tool for increasing equanimity |
| | Shrines, continued |
| 6:00-7:00 PM | Dinner |
| 7:00-9:30 PM | Third Contemplation: Water, Healing takes us from fixity to flow |
| | The Ecstatic Spoken Word/Of Sound Body with Eric Archer |
| 9:30 PM | New Year's Toast |
Monday, January 1

| | |
| --- | --- |
| 7:30-8:00 AM | Morning Salutations and Meditation (optional) |
| 8:00-9:00 AM | Breakfast |
| 9:00 AM-1:00 PM | Fourth Contemplation: Fire, Letting go of what no longer serves |
| | Complete Shrines, Journal & Group share, QiGong |
| | Closing |
| 1:00-2:00 PM | Lunch |
| 2:00 PM | Checkout and Departure |
Teacher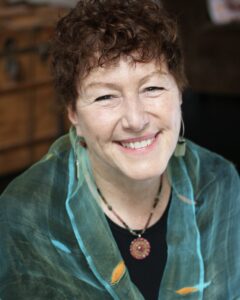 Rev. Therese Bimka, LCSW
Therese is a spiritual director and a psychotherapist in private practice in the Hudson Valley and the former director of The Interspiritual Counseling Program at One Spirit Interfaith Alliance (2011-2021).  She is a seasoned leader of retreats and workshops on a wide range of psycho-spiritual and creative themes. She has advanced training in various trauma-based teachings, guided visualizations for health, mindfulness meditation, Buddhism and Psychology, Expressive Arts, Jungian Sandplay Therapy, Soulcollage,  Restorative Justice, and Collective Trauma, among others. Therese has led workshops and retreats for organizations, training institutes, educational institutions, government facilities, congregations, and community based nonprofits, in addition to…
Learn more about Rev. Therese Bimka, LCSW