Anniversary Pujas for Khenchen Rinpoche's Parinirvana
January 12 - 14, 2024
A DHARMAKAYA PROGRAM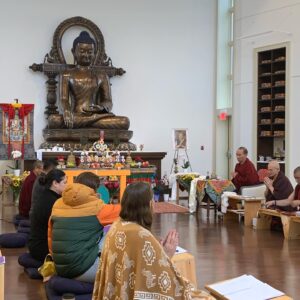 On the second anniversary of Khenchen Rinpoche Drupon Trinley Paljor's parinirvana, the Dharmakaya Center for Wellbeing will hold a special weekend of commemoration. Kagyu masters will perform pujas beginning on Friday afternoon through Sunday morning. The ceremonies will conclude before lunch on Sunday.
Sangha members and all those who whose life was touched by Khenchen Rinpoche are invited to join the lamas in the Meditation Hall during the pujas. Everyone is welcome to participate in some of the pujas; sangha members may observe but not participate in others. The schedule below gives the timing for both.
RESERVATIONS
The pujas are free and open to all; meals and overnight stays are available at our normal rates.
Please note that attendance is limited and you must pre-register no less than 24-hours in advance. Please use the link to reserve your spot.
If you choose to stay at the Center, you will automatically be registered for all pujas and all your meals are included.
If you are joining us as a commuter, please reserve each puja and meal.
Please make a separate reservation for each member of your group.
STAY SAFE DURING COVID-19: We are committed to your health and safety. Please read our COVID-19 Precautions & Preparations to understand our strategies.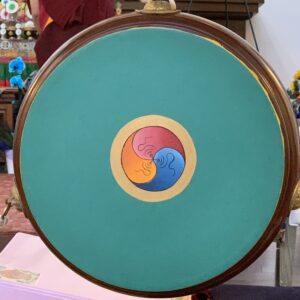 SCHEDULE
We understand that some people may not be able to participate in the entire session; people may leave or enter during the breaks between individual pujas.
Friday, January 12
| | |
| --- | --- |
|  SESSION 1 | |
| 2:00-3:00 PM | Avalokiteshvara Practice |
| 3:45-5:00 PM | Aspiration Prayer and Smoke Offerings |
| 5:15-6:00 PM | Dharma Protector of Mahakala Practice (observation only) |
| 6:00-7:00 PM | Dinner |
Saturday, January 13

| | |
| --- | --- |
|  SESSION 2 | |
| 7:00-8:00 AM | Green Tara Practice |
| 8:00-9:00 AM | Breakfast |
| 9:00-10:30 AM | Vajrasattva Practice (observation only) |
| 10:45 AM-12:00 PM | Calling the Guru From Afar and Aspiration Prayer |
| | |
| 12:00-1:00 PM | Lunch |
| | |
|  SESSION 3 | |
| 2:00-3:30 PM | Vajrasattva Practice (observation only) |
| 3:45-5:00 PM | A Prayer for the Amitabha Pure Land and Smoke Offerings |
| 5:15-6:00 PM | Dharma Protector of Mahakala Practice (observation only) |
| | |
| 6:00-7:00 PM | Dinner |
Sunday, January 14

| | |
| --- | --- |
|  SESSION 4 | |
| 7:00-8:00 AM | Green Tara Practice |
| 8:00-9:00 AM | Breakfast |
| 9:00-10:30 AM | Vajrasattva Practice (observation only) |
| 10:45 AM-12:00 PM | Calling the Guru From Afar and Aspiration Prayer |
| | |
| 12:00-1:00 PM | Lunch |