Buddhist Meditation: Immersive Practice Weekend
With John Henderson
June 21 - 23, 2024
A DHARMAKAYA CENTER RETREAT
You've been practicing meditation and want to go deeper—or maybe you just want to clear some time to reawaken your practice. The focus of this weekend is Buddhist meditation in the core areas of stillness, analytical and generative meditations.  Supported by discussion of core Buddhist teachings, the weekend time will concentrate on sessions of meditation practice followed by discussion and Q&A to better understand how to develop our personal practice.
"Honestly, I could have stayed a week. I was always learning new things. It was a weekend I will never forget."
BRING A FRIEND DISCOUNT: Do you know someone who would like this program, but hasn't been to the Center? Bring them, and you both get a 10% discount on your entire program package. For the discount to apply, there must be two reservations, at least one of whom has not taken a Dharmakaya Center class previously. At checkout, apply the Discount Code: BringAFriend.
SCHOLARSHIPS AVAILABLE: We are pleased to be able to offer partial scholarships for this program. Please apply here.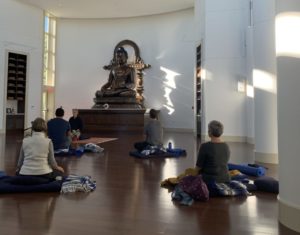 PROGRAM DESCRIPTION
Meditation is the core practice in Buddhism. Buddhism encompasses many subjects, but it is through meditation that we explore and apply those teachings. In Tibetan, the word for meditation is translated as "to become familiar with."  In meditation, we quiet our mind and open our heart to become familiar with ourselves and the world around us through the lens of Buddhist teachings.
This weekend program will concentrate on core Buddhist meditation practices with supporting related teachings.  We will apply ourselves in stillness meditations to quiet an active mind; generative meditations to build positive emotions and thoughts; and analytic meditations to open our understanding. There will be a lot of time 'on the mat' in order to go deep in our practices.
You will leave with valuable skills that can change how you choose to relate to, react to and view the world around you, and the tools to establish or deepen your personal meditation practice.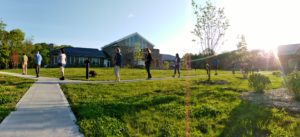 EVENT HIGHLIGHTS
Intimate setting with personal access to the teacher
Interactive sessions with question and answer periods
Personal and guided sitting and walking meditations
Delicious all-vegetarian meals with locally sourced ingredients
Option to extend stay on Personal Retreat
Extensive library of dharma books
Expansive wooded grounds with beautiful flora and fauna

OPEN TO ALL
There are no prerequisites for this program; it is appropriate for meditators at all levels and those simply interested in exploring the teachings.
SCHEDULE
(subject to change)
Friday, June 21

| | |
| --- | --- |
| 3:00 PM | Check in begins |
| 6:00-7:00 PM | Dinner |
| 7:30-9:00 PM | Welcome and Introduction |
| | Calming Meditation Techniques |
Saturday, June 22

| | |
| --- | --- |
| 7:00-8:00 AM | Morning Salutations and Meditation, optional |
| 8:00-9:00 AM | Breakfast |
| 9:30 AM-11:30 AM | Program |
| | |
| 12:00-1:00 PM | Lunch |
| 2:00-4:30 PM | Program |
| | |
| 6:00-7:00 PM | Dinner |
| 7:30-9:00 PM | Evening Meditation, optional |
Sunday, June 23

| | |
| --- | --- |
| 7:00-8:00 AM | Morning Salutations and Meditation, optional |
| 8:00-9:00 AM | Breakfast |
| 9:30 AM-11:30 AM | Program |
| 12:00-1:00 PM | Lunch |
| 1:00 PM | Checkout and Departure |
Teacher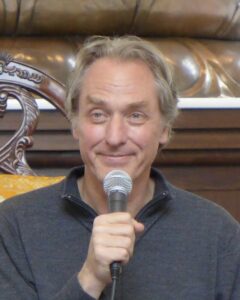 John Henderson
John Henderson has studied Buddhist philosophy and practiced meditation for nearly 30 years. Since 2003 he has been a senior student of the Dharmakaya Center's founder, Rimay master Trungram Gyalwa Rinpoche. John has applied the teachings in his professional life as a serial entrepreneur, leading both healthcare and real estate businesses, and as board member of numerous not-for-profit organizations in the Northeast. He has been teaching at the Center since it opened in 2017. COMMENTS FROM FORMER STUDENTS "John models the attributes that I am always working on developing. Graciousness, patience, compassion. It's one thing to teach it, another…
Learn more about John Henderson