My Body, The Wetland: A Somatic Movement Workshop
With Elaine Colandrea
July 30 - August 1, 2021
RETREAT BY INVITED PRESENTER
We are sorry, this program is now at capacity. You may join the waitlist, as cancellations do sometimes occur. Please also consider joining Elaine's program Continuum Explorations: Dissolve. Dwell. Discover. September 17-19.
The somatic movement practice of Continuum opens the door to experiencing the tangible reality of connection and wholeness deeply rooted in nature. Based on biological awareness and the primacy of the fluid system as the connecting thread uniting humans and the planet, this program combines fluid movement with Continuum breath and sound explorations. Students will learn to work with their own health and wellbeing, gaining awareness of the parallels between caring for themselves and for the environment.

To understand the power of this modality, view these short films: Moving Like Water, Unveiling Continuum, and Embryonic Origins.
STAY SAFE DURING COVID-19: In the interest of safety, enrollment will be limited; please read our COVID-19 Precautions & Preparations to understand our additional strategies.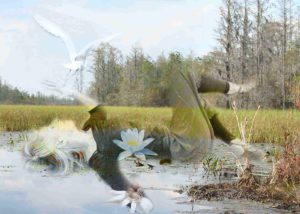 PROGRAM DESCRIPTION
The parallels between the human body and the earth body form the basis of our shared study. The fluids within us and the waterways of the planet are one continuous resonant stream making life on earth possible. Continuum's breath, sound and fluid movement explorations emerge from intrinsically felt sensation, arousing all levels of consciousness to the stream of life-giving properties inherent in being "water bodies."
This program is an antidote to the overly stabilized way of life prevalent in the modern world. The practices offered over this transformative weekend reduce and renegotiate the density of body tissue, of mental stagnation and of psycho-spiritual unease. The native state of being a mutable living system in an ever-changing ecosystem unfolds naturally. The essential and vital state of sensorial awakening to new ways of being in open presence and connection with self, others and the natural world is given space to emerge.
Participants will be able to practice the material on their own, in their own manner, both during and after the program, in a continual growth process of being a living work of embodied art.
Continuum is of interest to many fields of inquiry, including but not limited to, health care practitioners, activists of all kinds, educators, artists and all those who choose to thrive in a co-creative process with the earth itself.
The natural landscape and serene beauty of the Dharmakaya Center, along with the outdoor pavilion and expansive retreat space offer us safe and spacious ways of being in community.

ADDITIONAL INFORMATION

Recommend reading and viewing: "My Body, The Wetland" in the 2020 Watermark Arts online Journal, WaterSense.
EVENT HIGHLIGHTS
Intimate setting with personal access to the teacher
Interactive sessions with question and answer periods
Guided meditations
Delicious all-vegetarian meals with locally sourced ingredients
Option to extend stay on Personal Retreat
Extensive library of dharma books
Expansive wooded grounds with beautiful flora and fauna
OPEN TO ALL

Continuum's biologically based embodiment practice is available to people of all abilities and levels of experience; curiosity is the only prerequisite.

SCHEDULE
(subject to change)
Friday, July 30

| | |
| --- | --- |
| 3:00 PM | Check in begins |
| 6:00-7:00 PM | Dinner (Dining Hall) |
| 7:15-8:45 PM | Welcome and Introduction (Outdoor Pavilion) |
| | Session 1 (Outdoor Pavilion) |
| 10:00 PM | Lights go out on Campus |
Saturday, July 31

| | |
| --- | --- |
| 7:00-8:00 AM | Morning Salutations and Meditation, optional (Outdoor Pavilion) |
| 8:00-9:00 AM | Breakfast (Dining Hall) |
| 9:30 AM-12:30 PM | Session 2 (Outdoor Pavilion) |
| 12:30-1:30 PM | Lunch (Dining Hall) |
| 2:30-5:30 PM | Session 3 (Outdoor Pavilion) |
| 6:00-7:00 PM | Dinner (Dining Hall) |
| 7:30-8:00 PM | Outdoor Fire Pit Sound Circle on the Terrace, optional |
| | |
Sunday, August 1

| | |
| --- | --- |
| 7:00-8:00 AM | Morning Salutations and Meditation, optional (Outdoor Pavilion) |
| 8:00-9:00 AM | Breakfast (Dining Hall) |
| 9:30 AM-12:30 PM | Session 4 (Outdoor Pavilion) |
| 12:30-1:00 PM | Lunch (Dining Hall) |
| 1:00 PM | Checkout and Departure |
Teacher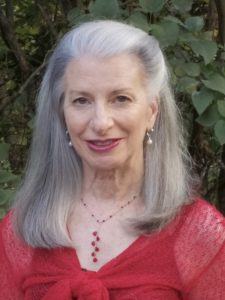 Elaine Colandrea
Elaine Colandrea explores how the somatic arts shape consciousness, inform and inspire the creative process, as well as foster connections with nature to organically create a more humane world. Continuum teacher and Artistic Director of Watermark Arts, as well as a dancer/choreographer, somatic educator and massage therapist, her work has been deeply influenced by her association with Emilie Conrad, founder of Continuum, a practice she has pursued for 30 years. With Rori Smith, Elaine co-authored The Elemental Body: A Movement Guide to Kinship with Ourselves and the Natural World, Epigraph, 2022. Elaine's abiding passion is bringing people together to directly…
Learn more about Elaine Colandrea