Journey Within: A Long Weekend of Silent Meditation
With Anne Sussman and Jenny Hoffman
April 11 - 14, 2024
RETREAT BY INVITED PRESENTER
For many, the thought of a silent retreat provokes one question: Why? People find the concept intriguing, but are dubious that they would be able to sustain the silence. Yet, once they take the leap they discover the powerful benefits: a break from technology and the bombardment of sound, a retreat from busy lives, the respite of deep silence. Join us to reflect, get still, and listen to the voice of your Soul.
"This weekend allowed me to set aside all the distractions and numbing devices and truly tune in to myself. Anne is a thoughtful, wise, authentic and kind teacher. She makes meditation accessible with loving support. Practicing with her as my teacher has been life changing."
STAY SAFE DURING COVID-19: Please read our COVID-19 Precautions & Preparations to understand our strategies, including limited class size to facilitate social distancing and ample teacher attention. We are committed to your health and safety.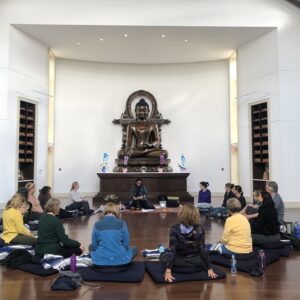 PROGRAM DESCRIPTION
This is an opportunity to shut out the world for the weekend and sink deep into yourself. No phones. No television. No work. No news. No distractions. Just the deep inner peace that can only arrive when the distractions disappear.
Throughout this weekend, as you practice "Noble Silence," Anne guides you through a variety of meditation practices—seated meditation, walking meditation, mantra practice and other techniques. Each day includes a deep restorative yoga class with Jenny Hoffman; you are also encouraged to join the Center's daily morning salutations and meditation. Between sessions there is ample personal time to walk the beautiful grounds, reflect, journal, and rest. Farm-to-table vegetarian cuisine is enjoyed in silence, as we practice mindful eating. The program concludes with time for Q & A as our silence ends after breakfast Sunday morning.
Please note: You will be asked to relinquish your cell phone before dinner Thursday night; it will be returned Sunday at noon. Please give loved ones the Center number in case of emergency.
The class will be limited to approximately 20 people; spots are expected to fill quickly.

EVENT HIGHLIGHTS
Intimate setting with personal access to the teacher
Question and answer period
Shamatha, walking, mantra, and guided meditations
Delicious all-vegetarian meals with locally sourced ingredients
Option to extend stay on Personal Retreat
Extensive library of dharma books
Expansive wooded grounds with beautiful flora and fauna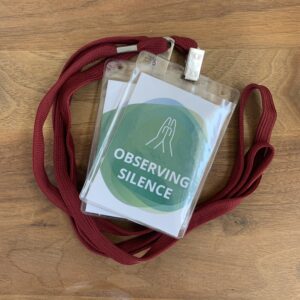 OPEN TO ALL
There are no prerequisites for this program; it is appropriate for meditators at all levels and those simply interested in exploring the teachings.
SCHEDULE
(subject to change)
Thursday, April 11

| | |
| --- | --- |
| 3:00 PM | Check in begins |
| 4:30 PM | Welcome and Introduction |
| | Discussion prior to entering Noble Silence |
| 6:00-7:00 PM | Dinner and Eating Meditation |
| 7:15-9:15 PM | Silence Begins |
| | Guided Meditation |
| | Gentle and Restorative Yoga |
Friday, April 12 and Saturday, April 13

| | |
| --- | --- |
| 7:30-8:00 AM | Morning Salutations and Meditation, optional |
| 8:00-8:45 AM | Breakfast |
| 9:00-11:o0 AM | Morning Learning and Meditation |
| | |
| 12:00-1:00 PM | Lunch |
| | |
| 1:30-3:00 PM | Afternoon Learning and Meditation |
| 3:30-4:45 PM | Gentle and Restorative Yoga |
| 4:45-6:00 PM | Personal Reflection |
| 6:00-7:00 PM | Dinner |
| 7:30-8:30PM | Evening Learning and Meditation |
Sunday, April 14

| | |
| --- | --- |
| 7:30-8:00 AM | Morning Salutations and Meditation, optional |
| 8:00-8:45 AM | Breakfast |
| 9:00-10:30 AM | Silence Ends, Sharing Circle |
| 10:30-11:00 AM | Gentle and Restorative Yoga |
| 11:00 AM-12:00 PM | Q&A |
| | Closing Circle |
| 12:00-1:00 PM | Lunch with conversation |
| | |
| 1:00 PM | Checkout and Departure |
Teachers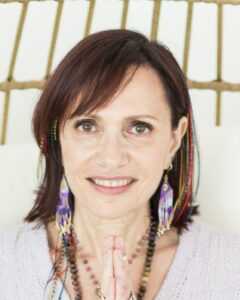 Anne Sussman
Anne Sussman is a certified Mindfulness and Meditation Instructor. She helps her students create a fluency in mindfulness, empowers individuals to be compassionate listeners, and shares techniques for living in high vitality. She is the founder of the Mindfulness Meeting Place, a virtual studio that meets students wherever they are, helping them develop a calm mind, focused attention and greater well-being. Anne offers instruction to individuals, small groups, and organizations. She is a 2015 graduate of the McLean Meditation Institute, and a certified trainer of the MMI-Mindful program. Her mindfulness education courses, tailored to companies large and small, are designed…
Learn more about Anne Sussman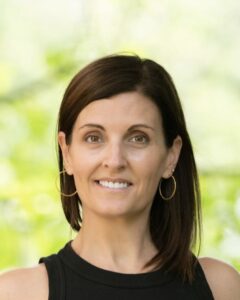 Jenny Hoffman
Jenny has been teaching yoga since 2013. Her classes are considered a slow and mindful flow-style class with a strong emphasis on proper alignment. This style keeps students connected with their breath and body to calm and quiet the mind. She considers yoga to be a moving meditation and enjoys infusing mindfulness-based meditation principles in her classes. Jenny likes to remind both herself and her students that yoga is inherently therapeutic in nature and that the practice is accessible to everyone, regardless of age, strength or flexibility. Jenny is also the mom of three teenagers and has two dogs that…
Learn more about Jenny Hoffman